| | |
| --- | --- |
| BELIZE | |
---
Diary/Travel guide
4 days on Caye Caulker
---
---
Summary of the route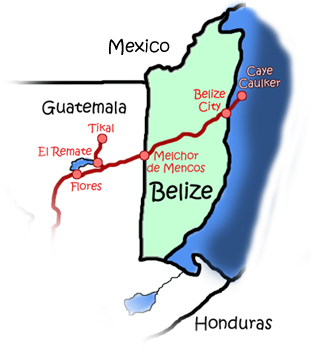 Preparation
Belize was for us an "idleness" halt during our travel in Guatemala and we particularly wanted to observe the depths of the sea by snorkelling (flippers, mask, snorkel).
---
Arrival
After one week spent in Guatemala, we prepare for getting to Belize. At 8:45 AM we leave El Remate in Guatemala, a little town situated at 70 kilometres from the frontier of Belize by minibus. The latter, which have been booked the previous day, picks us up at our accommodation. We are on the way to Belize City, the capital of Belize (14 EUR by person ; 4 hours route). The minibus arrives full of travellers coming from the town of Flores (Guatemala) and who are expecting, as we are, to get to Belize.
TO GET TO BELIZE FROM EL REMATE OR FLORES IN GUATEMALA
It's easy to book a bus the previous day from your accommodation or from an agency situated at El Remate or Flores, two Guatemalan towns situated near to the archaeological Maya site of Tikal. Another solution consists in managing for oneself, intercepting one of the buses or minibuses which leave from Flores and inevitably go through the intersection "Flores/El Remate/Belize" at 2 kilometres to the north of El Remate. The route El Remate/Belize City costs in average 14 EUR by person. 4 hours route are requested from El Remate, and 4 hours and 45 minutes from Flores or Tikal.
The bus runs during 45 minutes on an asphalted, but in poor condition, road. Then during 45 more minutes, it is a track. It takes us 1 hour and 30 minutes to make 70 kilometres and to arrive at the frontier of Belize.
Just before arriving at the frontier, the bus stops to pick one person up. She goes around passengers in order to propose to change our Guatemalan currency (Guatemalan Quetzal = GTO), our Euros or American Dollars for Belizian currency (Belizian Dollar = BZD).
Apparently, everybody in the bus changes money... Rate doesn't seem very interesting (1,00 EUR =2,20 BZD in the beginning, later 2,30 BZD) so I prefer to wait. I am going to change my Euros at the frontier, for 2,60 BZD after a hard negotiation (= black market), that is almost 15 % better than in the bus !
At the frontier, we have to get out of the bus with our bags, and to go through the two customs by foot. At the customs of Guatemala, we have to pay 10 GTO that is 0,88 EUR by person. Then we go through the customs of Belize, where there is nothing to pay for. There is no time difference in comparison to Guatemala, that is still 8 hours less than in France.
We get back into our bus and we arrive 2 hours and 30 minutes later in Belize City, the capital of Belize, which is located at the Caribbean Sea, so east of Belize. The bus drops us off just opposite "Water taxi" terminal, from where taxi-boats travelling to different islands are leaving. Here, the atmosphere is quite different from Guatemala : reggae music, black population and an official language which is English and not Spanish like in the neighbouring countries, Mexico and Guatemala !
CAYE CAULKER
Caye Caulker is a Caribbean island belonging to Belize. It is situated on the second biggest coral reef in the world, after the Australian one. From the island, it is possible to go touring in order to practise diving or snorkelling (flippers, mask, snorkel). Caye Caulker and Ambergris Caye are the most touristic islands of Belize. Caye Caulker has a relaxed atmosphere, is very frequented by the travellers. Ambergris is, as for it, smarter, so more expensive and above all she has a bigger surface. On Caye Caulker, excepting two or three big vehicles used for transporting voluminous merchandises, only small electric cars (similar to the cars that we can find on golf courses) run on the island. Here no asphalted roads, just little sandy alleys. Around 1,300 inhabitants populate the island. In the south, is situated the aerodrome and in the northern spit of the island are concentrated houses, accommodations, restaurants and shops.


Click on + or - to zoom in or out
Click on a blue mark to get the legend
Slide to shift the map
Click here to enlarge the map on Google Maps
We buy our tickets to get to Caye Caulker island (30 BZD, that is 10 EUR by person for one return ticket). Nota Bene : a cash dispenser is situated right next to the terminal !
TO GET TO CAYE CAULKER OR SAN PEDRO FROM BELIZE CITY
To go to Caye Caulker island or Ambergris (San Pedro) from Belize City, you just need to go to "Water taxi" terminal in Belize City. From there, many taxi-boats are leaving with departures almost every hour (see www.cayecaulkerwatertaxi.com) The outward journey to get to Caye Caulker costs 5 EUR by person and lasts around 50 minutes for a 32 kilometres navigation. It is possible to buy a return ticket but it's not a decreasing rate, that is 10 EUR by person. San Pedro is 20 kilometres further than Caye Caulker island, so the ticket is a little more expensive.

Another possibility, but more expensive, is to take one of the numerous planes which shuttle all day long. I have unfortunately no rate to declare.
At 1:30 PM, we leave in a taxi-boat with around 50 persons on board. As the boat sails, the turquoise blue of the water becomes more marked. After 45 minutes, we disembark on Caye Caulker.
Accommodations and Restaurants
We are immediately looking for an accommodation. Many of them are already fully booked ! Here rates are very higher than in Guatemala ! We notice that for one very simple accommodation, rates are around 20 EUR for one room. To have a little more comfort, it is rather 30 EUR. For 10 EUR it is quite mediocre ! Of course, there is also much more expensive !!! After 2 hours research, we decide of one accord to halt in a... charming apartment for... 144 EUR by night... ("it does no harm just this once" !) The apartment is sublime and has got two magnificent rooms with a private bathroom and a kitchenette (washing machine and American fridge). A jacuzzi and a swimming pool are shared by the co-ownership which is called "Seaside Villas 5" (No. 23 on the map below).
CAYE CAULKER MAP
Here are, in downwards order, accommodations, restaurants and other places :

In the extreme north, is a channel called "The Split" (pretty place ; photo)
[20] "Lazy Lizard" (bar ; diving board ; photo)
[19] "Mara's Place" (simple accommodation ; balcony with hammock ; photo)
[18] "Relax in Style" (very good standing apartment ; balcony)
[17] "Tsunami" (agency which proposes several trips ; www.tsunamiadventures.com)
[16] "Ocean Pearl Hotel Royal" (simple but very clean room ; from 17 to 27 EUR ; photo)
[15] "Betta" (very basic)
[14] "Don Corleone" (pizzeria ; rates a little higher than in average)
[13] "Blue Waye" (accommodation with balcony ; photo)
[12] "Sobe Las Olas" (restaurant in front of the sea)
[11] "Barefoot Caribe" (room with balcony and hammock ; some are very simple, others are better and very clean ; 20 EUR ; photo)
[10] "Herbal Tribe" (restaurant ; good ; fast service ; check the bill ! photo)
[9] "Femi's Cafe & Lounge" (a few dishes kind of sandwich)
[8] "De Real Macaw" (simple with hammock on each balcony ; www.derealmacaw.biz)
[7] "Rainbow" (hotel ; photo)
[7R] "Rainbow Grill & Bar" (situated on a pontoon on water)
[6] "The Tropics Hotel" (seems to be simple ; www.thetropicshotel.com ; photo)
[43] playground
[24] "Happy Lobster Rest & Bar" (very good)
[5] "The Bamboo Grill" (exotic dishes ; quite long service and hot dishes unfortunately served cold)
[4] "Sports Bar & Grill" (good ; fast service ; taste the "Tango Mango Chicken Burger" for 6 EUR, photo)
[42] basket ground
[2] "Tina's Hostel" (dormitory ; some single rooms ; hammocks under trees ; others on a pontoon on water ; in front of the sea and at a quiet place ; photo)
[38] "Diane's Beach" (accommodation ; photo)
[39] "Lighthouse Icecream Parbour" (ice-cream maker ; very good ice creams ; 1 EUR for one big ball)
[1] et [3] "Auxillon" and "Sailwinds Beach Suites" (apartments at a quiet place in front of the sea ; from 64 EUR ; photo)
[21] "Seaside Cabanas" (rooms with balcony ; swimming pool ; pretty surroundings ; www.seasidecabanas.com ; photo)
[44] pier where "Water Taxi" arrive and leave
[22] "Popeye's Beach Resort" (simple rooms, others are better ; balcony or terrace ; from 18 to 30 EUR ; www.popeyesbeachresort.com ; photo)
[37] fruit stand
[23] "Seaside Villas 5", where our accommodation is (charming apartments for 4 persons, situated in a building of 6 apartments ; kitchenette ; washing machine ; fridge ; shared jacuzzi and swimming pool ; hammocks on the roof ; 144 EUR ; photo)
[25] "Lena's" (very basic ; 18 EUR ; balcony ; photo)
[34] "Rasta Pasta" (restaurant specialized in pastas)
[35] "Marin's Restaurant-Bar"
[26R] "Tropical Paradise Restaurant"
[41] cemetery (photo)
[26] "Tropical Paradise Hotel" (some rooms in bungalows with a little balcony and in front of the sea ; some basic rooms are situated back, in an old building ; from 20 EUR ; photo)
[27] "Tom's Hotel" (spacious and clean rooms, situated in a very simple building for 18 EUR ; other rooms are situated in outside bungalows ; photo)
[28] "Barefoot Beach Belize" (room from 44 EUR ; apartment with kitchen from 63 EUR to 96 EUR ; coffee and tea included ; hammock on a pontoon ; seems to be clean ; family atmosphere ; managed by Westerners ; phone 226-0205 ; photo)
[29] "Banana Cabana" (a few rooms ; photo)
[30] "Anchorage Resort" (clean room for 43 EUR ; functional bathroom ; deck-chairs ; air conditioning ; volley-ball ground ; phone 501-226-0304 ; www.anchorageresort.com ; photo)
[32] "Gnacio's Beach Cabins" (room on pile ; 15 EUR for front rooms ; 10 EUR for back rooms ; fan ; balcony with hammock ; simple ; at a quiet place ; photo)
[33] "Shirley's Guest House" (photo)

all rates indicated are inclusive of tax ! Pay attention when you consult rates on the spot ; they are excluding VAT and you must add a 9 % tax.
The medium price for a dish is 8 EUR. A milk-shake, 2,70 EUR.
Every photo of the accommodations...
After a short walk, we have dinner at "Herbal Tribe" (good ; fast service ; 12 EUR for one dish ; pay attention to check the bill, because we have noticed 3 EUR more !) before going to bed around 8:00 PM.
CURRENCY : BELIZIAN DOLLAR OR AMERICAN DOLLAR
Belizian Dollar (BZD) is index-linked to American Dollar (USD). Exchange rate is always the same, that is 1 USD = 2 BZD. Pay attention to state the currency for which you are negotiating a rate ! For instance, 10 Dollars mean nothing if you don't state if that is American Dollars or Belizian Dollars !
Today morning, big washing ; since we have got a washing machine in our apartment. We also have breakfast (corn flakes, milk and fruit). On the island, many mini markets allow to get fresh supplies. To have an idea of the prices, one 1,5 litre water bottle costs 0,67 EUR.
Snorkelling and diving
ACTIVITIES ON CAYE CAULKER
Many travel agencies propose several trips at sea. Some are made by motor boat, others by sailing boat. Rates begin around 27 EUR by person for one snorkelling day from 9:00 AM to 5:00 PM, equipment included. Rate is generally set according to the geographical situation of the site. Further the site is, higher the rate will be. The "diving" trips are, of course, much more expensive ! The "diving" or "snorkelling" trips proposed by most of the agencies are : classic snorkelling, observation of rays and nurse sharks, observation of manatees, having lunch on a heavenly island, or getting to an island like George's Caye, Turneffe and so on...

The "Blue Hole" is a trip renowned for diving, but above all for the impressive view from the sky. This trip is however costly.

If you simply want to hire a snorkelling equipment, the medium cost is 3,30 EUR by day.

Other activities are also proposed like windsurfing, kayak, and even a trip by helicopter (more particularly to see the "Blue Hole")
After having consulted a few agencies offers, we opt for a trip for 27 EUR by person that we buy at the agency called "Tsunami" (www.tsunamiadventures.com ; No. 17 on the map). It's a one day trip by motor boat bound for San Pedro, a little town on Ambergris Caye island with 3 "snorkelling" stops. Rate includes water bottle drunk on the boat, fruit and tacos, but not breakfast that you can have on Ambergris island. We are 6 persons on the boat, among them Omali and Mike, a young couple of very friendly Australians, that we had met on the boat which have brought us to Caye Caulker. Our boat leaves the pier around 10:30 AM.
Note that the same itinerary can be made by sailing boat, but given the distance to get to Ambergris, it isn't planed to stop at San Pedro and we will have lunch on board.
"Shark Ray Alley"
"Shark Ray Alley" gets its name from the frequenting of this site by nurse sharks and rays which have made of this place their property. Nurse shark is a variety of shark which can give out a sound similar to the suction of an infant when it is feeding, that's why it is called like that.
It is not known to be aggressive towards man and it tends to have a daytime rest on the seabed. It is brown and its size can reach 4 metres long.
On the spot, our captain gives instructions to us before we plunge. During this stop we observe a dozen of nurse sharks more than 2 metres long, a dozen of stingrays, as well as other fishes and coral.
Our boat isn't the only one to frequent this site and we regretfully notice that some crews are feeding fishes and even touching rays ! We know that it disturbs marine ecosystem and first had made sure, at the agency which have sold the trip to us, that this practise wasn't made by our captain.
TO RESPECT SUBMARINE FAUNA AND FLORA
Here are some advice to respect this magnificent submarine nature whose beauty presents itself to us : don't touch coral, fishes or rays (animals in general), don't feed them because it's important not to alter natural behaviours, use biological solar creams (made up of natural elements which don't affect ecosystem) in order not to poison this marvellous and so fragile environment !
"Hol-Chan Marine Park"
"Hol-Chan Marine Park" is a channel where rushes water which comes in and out from the lagoon according to rising or ebb tide. It is highly probable that you observe there many big fishes because at this place water is rich in plankton. It's also a dangerous place because of strong streams. Our captain keeps on looking at us during our snorkelling while we are seeing, swimming in front of us, five eagle rays, five stingrays, three barracudas, one nurse shark and many other fishes, but unfortunately few coral. Stream is strong but swimming is practicable (it depends on the situation of the tide). We must be very vigilant and we must feel well the feasibility of the way back when we rush into a place like this.
San Pedro on Ambergris Caye
Around about 1:00 PM, we draw alongside of Ambergris Caye island at the level of San Pedro village, for our lunch break (not included in the trip) which is going to last approximately 2 hours. Here everything seems to be smarter and more expensive than in Caye Caulker. San Pedro is the seaside resort of Ambergris. Many restaurants border the beach which has allowed us to have lunch at the seaside.
More photos of San Pedro and its lagoon...
"Coral Garden"
A bit later in the afternoon, new stop at "Coral Garden". Water is calm but we find at this place many dead coral and few fishes. However we have the pleasant surprise to see swimming, majestically in front of us, a magnificent turtle which observes us, continuing with its way... A magical moment...!
More photos of the outing at sea...
We draw alongside of Caye Caulker around 4:30 PM... We take advantage of the jacuzzi of our apartment then we have dinner at "The Bamboo Grill" (exotic dishes ; quite long service and hot dishes unfortunately served cold ; 10 EUR for one meal ; No. 5 on the map) before going to bed.
The two following days, we are going to alternate walks with snorkelling in front of our apartment or at the Split (be careful : there is much stream ; water is cloudy and there are few fishes).

The channel called "The Split" (on the left)
INTERNET AND PHONE
The average cost of an internet access on the island is 4,50 EUR for one hour.

To phone, two solutions : either going to a cybercafé or buying at a mini market a phone credit : mini market issues a ticket with a PIN number. Then you only need to go to a phone box (there are a few phone boxes situated in alleys), to pick up the receiver, to wait for a voice which invites you to dial your PIN number ; once these instructions followed, you will be able to dial your phone number. The cost of a call to France is around 0,33 EUR by minute.
We have lunch at our accommodation : pastas bought at a mini market of the island as well as a big fresh pineapple bought on the streets for 1,70 EUR each. A papaya costs 1,33 EUR. Everywhere delicious banana cakes can be bought (apparently it is about a local speciality).
Every morning, I go swimming for nearly one hour right in front of our accommodation. I have been able to observe many big fishes but also many little stingrays, one of a bigger size as well as a big eagle ray which passed 3 metres away from me, whereas there was a depth of 1 metre only.
BEACHES AND SEA IN CAYE CAULKER
Beaches in Caye Caulker are not extraordinary and not very large.
Seaside is quickly invaded by seaweed which doesn't tempt to go bathing. To get a bigger depth and thus to swim above seaweed, we can start from the end of many pontoons. A few rays are not far from the beach. In May, water was 30°C (86°F) hot.
We also discover the south of the island, much less populated, more wild, more quiet also, apart from a few planes which land or take off from the aerodrome. Here, beaches disappear in aid of mangroves.
We have dinner one evening at "Happy Lobster Rest and Bar" (very good ; No. 24 on the map) and another evening at "Sports Bar and Grill" (good ; taste "The Tango Mango Chicken Burger" for 6 EUR ; photo ; fast service ; room with 4 TV sets and 1 big screen ; cheap ; No. 4 on the map). We are tempted to eat ice creams at "Lighthouse Icecream Parbour", we savour them walking at the seaside (ice-cream maker ; very good ice creams ; 1 EUR for one big ball ; No. 39 on the map).
Every photo of Caye Caulker...
---
On May 7th, we leave Caye Caulker at 1:00 PM by taxi-boat (5 EUR by person ; 55 minutes). In Belize City, we immediately take a taxi to get to the international airport (official rate displayed everywhere in the airport at 50 BZD, that is 17 EUR ; 20 minutes route).
At the check-in desk we have to pay a 72,50 BZD tax, that is 24 EUR by person. We change our last Belizian Dollars for American Dollars (Nota Bene : no possibility to get Guatemalan Quetzal !) We get back to Guatemala with 2 flights : Belize City/San Salvador then San Salvador/Guatemala City (1 hour flight + 45 minutes stopover + 45 minutes flight ; with the airline company Taca Airlines ; flight booked from France on www.DistriVols.fr for 156 EUR inclusive of tax in business class).
(see travel guide "Guatemala")
---
Supplementary information
---
Conclusion
Our short stay on Caye Caulker island was restful, all the more since we had got a superb accommodation ! A total change of scenery in comparison to Guatemala, from where we have come and to where we go back.

I hope that the summary of our travel have made you dream, and that it will perhaps make you feel like discovering this island ! If you want further details for your future travel don't hesitate to ask your questions on our forum !
I thank you for having followed our route, and I tell you "see you soon" for a new adventure !
Gilles
---
---